Good morning my friends. Today I am excited to be the guest designer at

Decorate to Celebrate

. I love making Home Decor, Party Favors and Treats. St Patricks Day is special to me since it's my dads' birthday, 2 days after mine and we always made a big deal about it. My dad would wear green everything, tie, shirt, socks, pants...we would eat and drink green everything...it was always a fun day. I have lots of ideas for you that I created for this occasion.
As I was looking at these nested heart baskets, I thought if I sprayed them green and attached 3 together, they would make a great base for a Shamrock! Yep! Hearts!! I added to this wonderful sparkly green shamrock wired garland and made 3 large loops and shaped them to look like hearts. This added bling, sparkle and dimension. I then tied some tulle in a lighter shade of green for the "Stem". The paper shamrocks are cut from Celebrate with Flourish in 4 shades of green. Once I layered them I ran them through the Cuttlebug using a paisley embossing folder. St Patricks Day is rainbows, shamrocks and gold so I added a bow of rainbow colored ribbons to break up the green and coordinate with my other decorations.
Wreath #2
For my daughters wreath, I used a different idea. I made the pot of gold the focus in the middle of the shamrock and had the wider rainbow ribbon as an accent. Our grandson had a reading goal where he earned a pot of gold and it was a big deal.
Medium Door Wreath
Wreath #3
For my Moms Wreath (the sneak peek) I used the smaller of the 3 nested sizes. She wanted hers kind of plain. Not all the blingage and additions. So I just used this fabulous sheer ribbon with shamrocks on it 'cause I just had to! 2 colors of tulle and the shamrock garland. These go together really fast.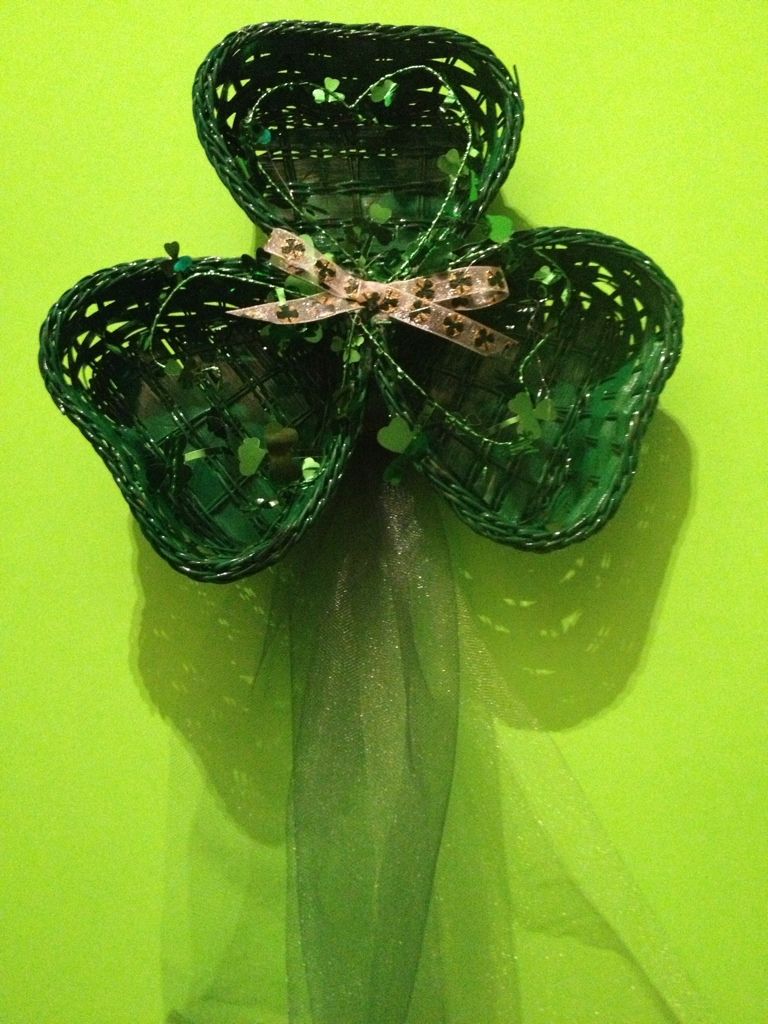 Small Door Wreath

He was cut at Fit to Page from Paper Doll Dress Up which is 11 1/2". I grabbed scraps of green papers in solids and prints and added gold glitter to his pot of gold that is hanging from more of this narrow satin ribbon in rainbow colors. His mustache is from Billionaire and is cut at 1/2".
The Treats...
I ordered these Twizzlers in awesome rainbow colors. I had been looking for them for a couple years and finally found some online through Soap.com. I cut them in half and put some chocolate coins in the bottom. I wanted them under a cloud with a Leprechaun. The same one as the large one but this is cut at 3 inches. I wanted to get more from each page since I had to make 20 of them. I am going to send them for our grandsons' class.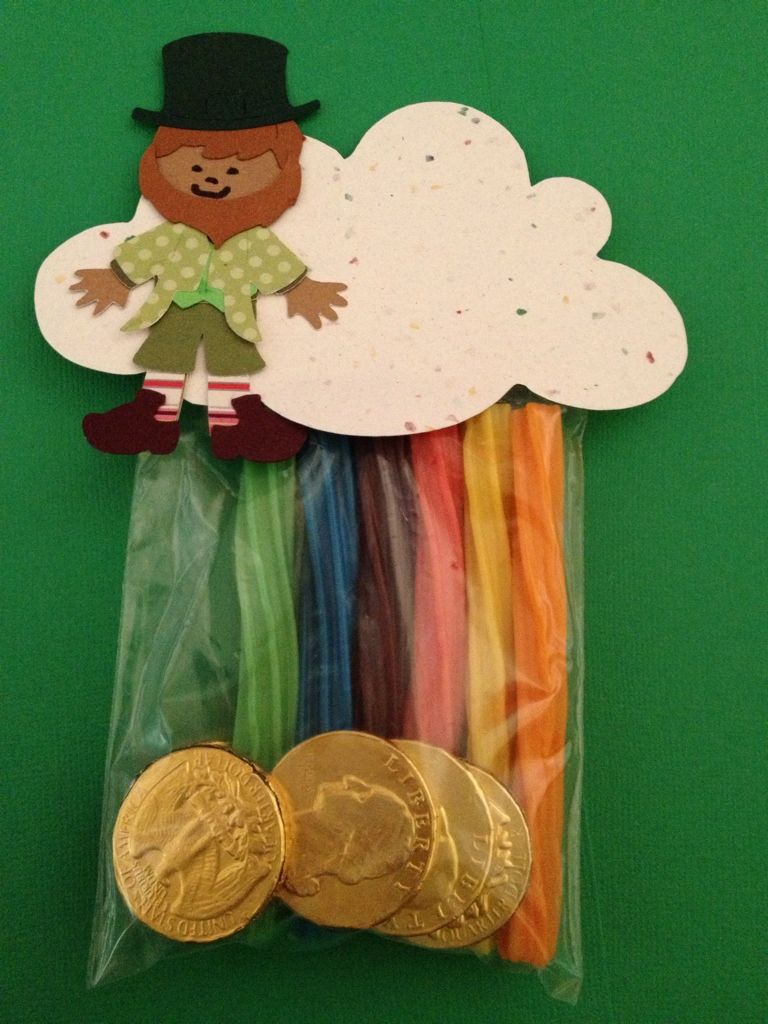 Treat bags

Lastly, I made a quick and cute plant stake. I cut the Leprechaun from Simply Charmed at 8" so I could use the 8 1/2 x 11 inch paper that was the perfect color. It goes together super easily. I just chalked all the pieces and used the heavy duty foam tape to attach it to the stick. It will look cute on my porch greeting visitors before they turn to the door and see the rest of the display! I may cover him in Mod Podge so he is weather proof since we have been having unusual rain lately even reaching the porch!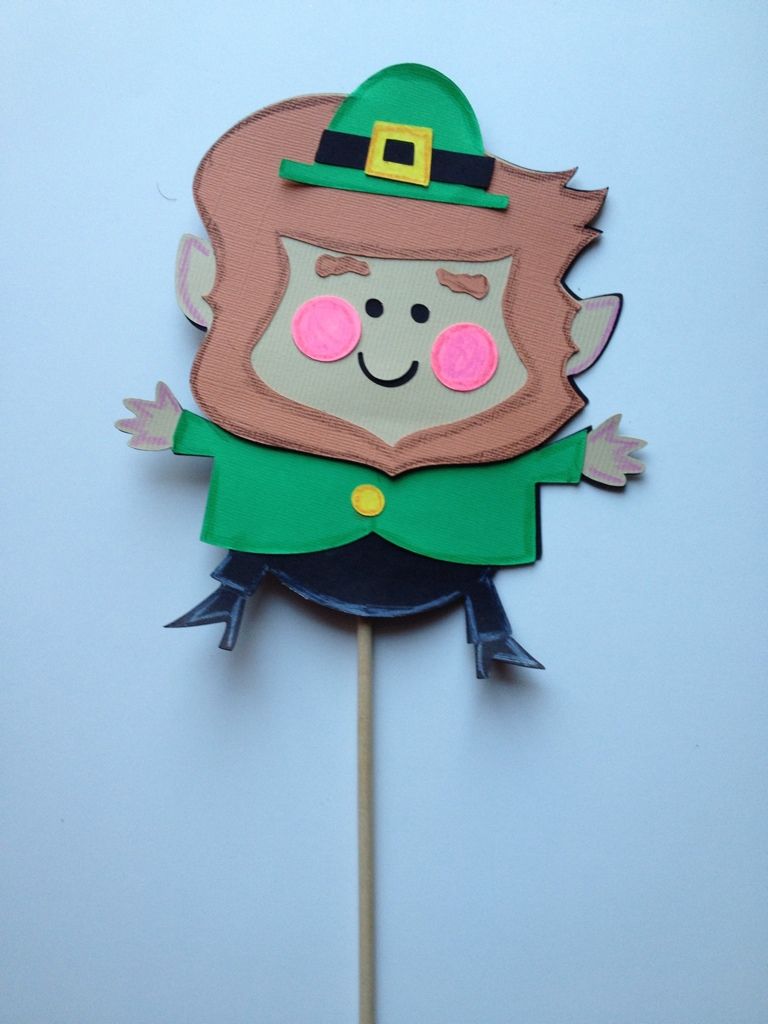 Plant Stake

I hope you like my projects. Please create a St Patricks Day Project and enter the challenge. You have until March 19th to enter. Thank you Amy for asking me to be a guest designer today. It was fun!!
These projects are entered in the folling challenges:
http://sandyscraftycreations.blogspot.com/2013/03/march-anthing-goes-with-twist-challenge.html
http://dianamlarson.blogspot.com/2013/03/dlart-thankful-thursday-march-linky.html?utm_source=feedburner&utm_medium=feed&utm_campaign=Feed:%20Dlart%20(DL.ART
)